PREMIUM QUALITY WITH #304 STAINLESS STEEL: The Milk Frothing Pitcher and coffee art pen are made of chrome finished #304 stainless steel. Rust-proof, stain-proof, heat-proof and nontoxic, unbreakable by daily use.
PERFECT COMBINATION OF MILK JUGS AND LATTE ART PEN FOR COFFE MAKING: The milk frother jug can be used in different ways, featured with a latte art pen which can shape kinds of beautiful coffee pattern. Perfect for making frothing or steaming milk for espresso, cappuccino or hot chocolate.Be your own barista in home and office.
POINT-MOUTH DESIGN: It can prevent liquid leaking from the coffee jug and make the coffee pattern pretty. Offer 12oz/20oz/32oz metal jugs to satisfied different customers demands, buy one at home or office for you and a couple of friends.
HUMANIZED DESIGN: The weld joint of the cup body and the handle is firm, durable to use. Personalized design for easy carrying and saving energy.
100% SATISFACTION AFTER-SALE SERVICE: 12 months money back or replacement guarantee. Any question you contact us, we will reply you within 24 hours.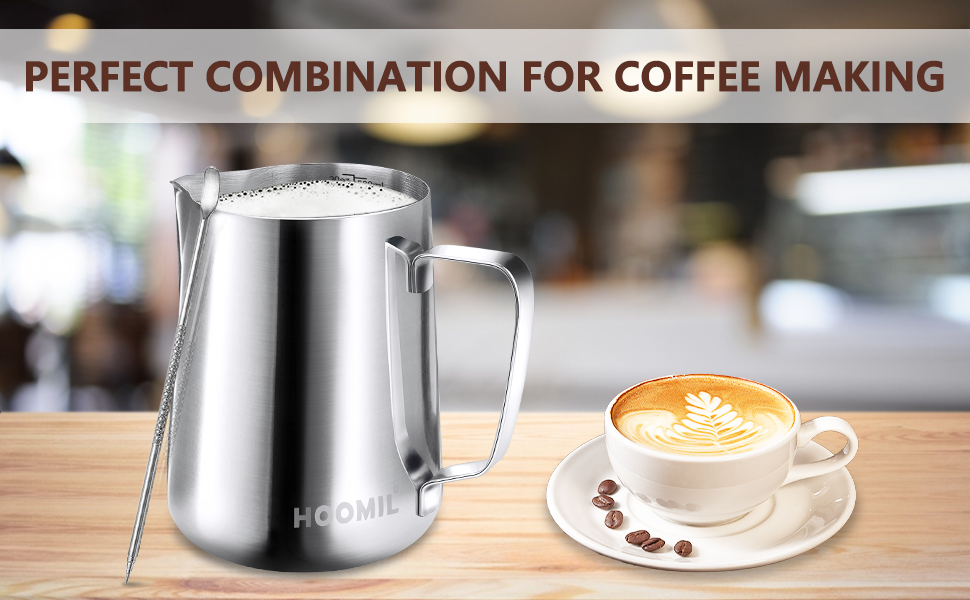 PERFECT BARISTA ACCESSORIES :Be your own barista at home and in the office with the HOOMIL high-quality milk frother pitcher and your favorite coffee beans, coffee tamper and milk thermometer. Perfect for making hot chocolate, espresso and cappuccino!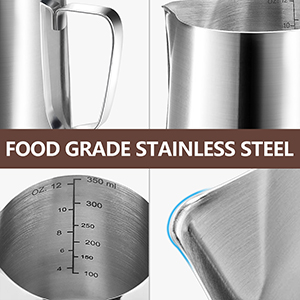 CLASSIC DESIGN
Dripless Spout Mouth

- Easy to pour, coffee and milk don't stick to barista jug in daily use.
Looped Handle

- Comfortable grip, easier to create latte art.
Inside Measurement Lines

- Help you control how much milk or cream each cup of coffee or espresso needs.
304 Food-Grade Stainless Steel

- With its brushed interior, mirror-polished exterior, the stainless steel frothing pitcher is easy to clean and it's also dishwasher-safe.
Lightweight & Portable Design

- With its tiny shape and perfect size, the cappuccino jug is convenient to carry with you whenever you travel.


You can choose from THREE different capacities:
350 ml / 12 oz
Designed for friends who are just starting to become coffee lovers, or for making a small amount of coffee at once. A small capacity, perfect for frothing milk for lattes, chocolate, and coffee.
600 ml / 20 oz
Its size makes it ideal for making 2 lattes or cappuccinos. When you create latte art, it is suitable for a cup of coffee about 400ml capacity.
900 ml / 32 oz
The large volume suits 2 or 3 people, so you can use it serve your family or friends.
Profession and Concentration
HOOMIL aim to create a stylish, simple and sturdy frothing cup. This milk frothing cup is made of premium quality food-grade stainless steel, selected for its quality, strength, and character. This milk steaming pitcher came about through HOOMIL's team effort involving endless design exploration and user tests. We offer 12oz/20oz/32oz size to satisfy different customers' demands. Buy one for your home, office, or to use with a couple of friends.